THE RESULTS OF THE 2011 CCFC HOSTED FRIESIAN BREED INSPECTION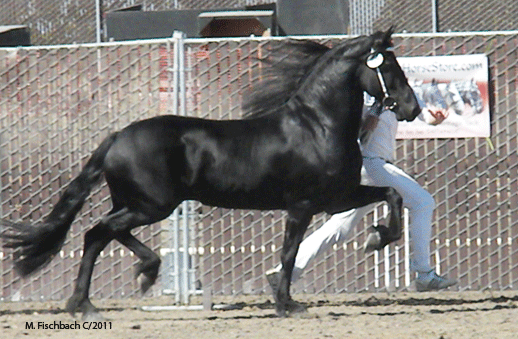 Photo 1&2 "Zariana of Noble"-1st Premie Ster/Provisional Crown, Mare Champion and Best of the Show.
Owned by CCFC Member Susan Slaviero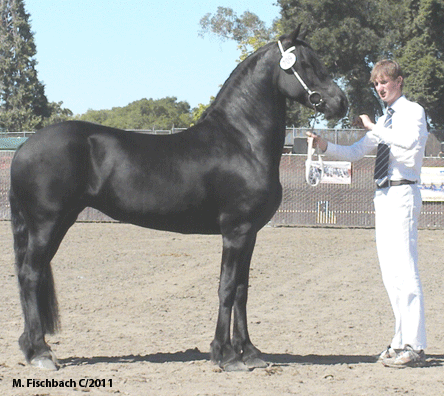 Awards and Auction Item Sponsors:

Grand Meadows www.grandmeadows.com
Hunt & Behrens, inc. John Martin, Petaluma CA, 707-762-4594
EquiFUSE www.EquiFUSE.com
Back Creek Farm 707-829-1242, Sebastopol, CA
Santa Rosa Equestrian Center, Santa Rosa CA, 707-566-0500, www.srequestrian.com
The Baroque Horse & Friesian Store www.baroquehorsestore.com, www.Friesianstore.com
Cowboy Magic, 1200 N Van Buren Street, Anaheim, CA 92807, 800-755-6844



Thank you to our Inspection Committee; Melissa Fischbach, David Stecher and Lesley-Ann Van Darren. And a big thank you to all the CCFC members who volunteered their time and expense to help with this event, it could not have been done without you:
David Stecher, Lesley-Ann and Tim Van Darren, Melissa Fischbach, Brigitte Bondoux, Kenn & Susan McCarty, Muriel Price, Susan Hall, Gina Sierra, Lisa Fuetsch, Maddison and Shea Elledge, Ruth Page & Friends.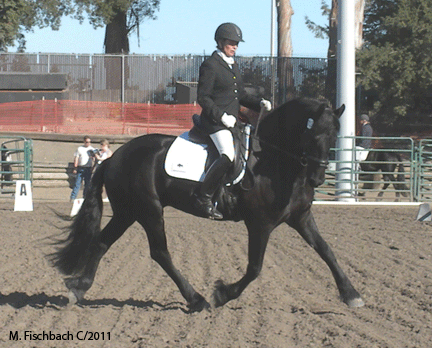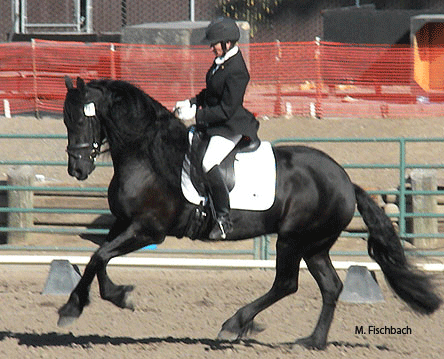 IBOP CHAMPION "Teake" 2nd premie ster gelding scoring a 77
Owned by Maddi's Friesian Ranch/ CCFC Member Ruth Page.

~PHOTOGRAPHS ~ Our show Photographer was Mark Dileo. Please contact him if you would like to order photos of your horse.
Marks webpage
---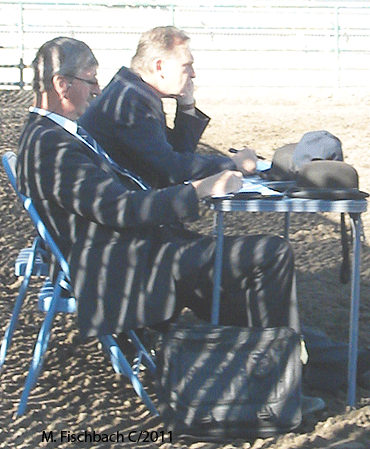 Judges:(back to front) Ed Pouw & Jan Hendrickst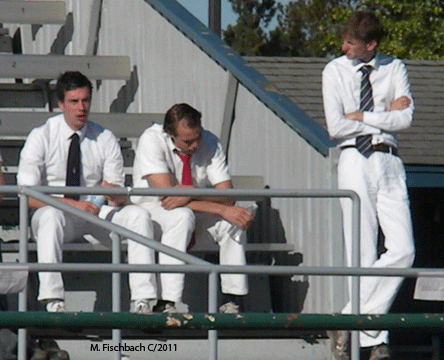 Our runners were: Jort Hein De Wit(center), Robbert Anton van Bergeijk (right) & Willem Houterman (left), thank you guys for a job well done!

Name
Category
Premie/Rating
Sire
Dam's Sire
Owner
Catagoy 1 Colts for Foalbook
691 Kaleb MFR
Cat.1
2nd Premie-CHAMPION
Sape 381
Jochem 259
CCFC Member Ruth Page
693 Jacob MFR
Cat.1
2nd premie
Tietse 428
Siek 326
CCFC Member Ruth Page
693 Jornick B.C.F.
Cat.1
2nd Premie
Sipke 450
Tsjerk 328
Lesley Ann & Tim Van Daren -CCFC Members
694 Landon MFR
Cat.1
2nd premie-RESERVE CHAMPION
Sape 381
Sjaard 320
CCFC Member Ruth Page
Catagoy 2 Fillies for Foalbook
695 Johanna MFR
Cat.2
1st premie
Tietse 428
Heinse 354
CCFC Member Ruth Page
696 Klara fan Ness
Cat.2
1st Premie- RESERVE CHAMPION
Sipke 450
Doaitsen 420
Brian J. Ness & Micheal Weiss-CCFC Members
697 Kahia MFR
Cat.2
2nd premie
Sipke 450
Fetse 349
CCFC Member Ruth Page
698 Lucia F.J.
Cat.2
2nd
Teitse 428
Ritse 322
Shawnee Free Jones
42341 Lauren of Friesian Glory
Cat.2
1st Premie- CHAMPION
Tietse 428
info pending
Susan Slaviero-CCFC member
Cat.3 Yearling Mares For Premium
699 Grace MFR
Cat.3
2nd Premie
Wander 352
Teunia 332
Ruth Page- CCFC Member
Cat.5 4+ Mares for Studbook/Ster
700 Tonja fan Helsing
Cat.5
2nd Premie-Ster
Teade 392
Ouke 313
Walt Pioli- CCFC Member
701 Topaz
Cat.5
NP/STB
Rintse 386
Yk 339
Catherine Helgeson
702 Waldou
Cat.5
NP/STB
Jasper 366
Tsjerk 328
Shawnee Free Jones
Cat.6 3+ Mares for Studbook/Ster
703 Coby Fan Oostenburg
Cat.6
3rd/STB
Doaitsen 420
Tsjerk 328
Shawnee Free Jones
704 Aanje R.S.
Cat.6
3rd/STB
Nanning 374
Wander 352
Jason & Tabitha Mouck -CCFC Members
705 Carre R.S.
Cat. 6
NP/STB
Mintse 384
Rypke 321
Jason & Tabitha Mouck -CCFC Members
Catagory 7, Mares repeat for Ster
706 IIske V. Veldzicht
Cat.7
2nd Premie/STER
Folkert 353
Tsjeard 331
Mari Anne Vanella-CCFC Member
707 Tiffany from Wildwind
Cat. 7
2nd Premie/STER
Sibald 380
Barteld 292
Frederik W. Kooistra
708 Ziva T.C.F.
Cat.7
2nd Premie/STER-RESERVE CHAMPION
Anton 343
Sjaard 320
Beth & Richard Sharp-CCFC Member
709 Zariana of Noble
Cat. 7
1st Premie/STER-CHAMP. PROVISONAL CROWN- BEST OF SHOW CHAMP.
Anton 343
Feitse 293
Susan Slaviero - CCFC Member
Catagory 12 3+ Yr Geldings for gelding Book & Ster
711 Xander
Cat.13
NP/STB
Remmelt 323
Barteld 292
Renee Wolfe-CCFC Member
712 Caspian
Cat.13
2nd Premie Ster-CHAMPION
Teade 392
Nanno 372
Todd & Jacque Werner CCFC Members
Catagory 14 Star Geldings for Premium
713 Teake
Cat.14
2nd premie/Ster
Teade 392
Erik 351
Ruth Page -CCFC Member
Catagory 20A-IBOP Riding
713 Teake (gelding)
Cat 20Ae
77-passed Ibop, but stayed a 2nd premie- IBOP CHAMPION
Teade 392
Erik 351
Ruth Page - CCFC Member
701 Topaz (mare)
Cat.20A
Score: 70 - Given Studbook
Rintse 386
Yk 339
Cathrine Helgeson
714 Tsjitske fan Sinserhus (mare)
Cat.20A
Score: Total 73 RES CHAMPION IBOP
Sape 381
Olof 315
Jason & Tabitha Mouck CCFC- Members
MORE PHOTOS By Marc DiLeo: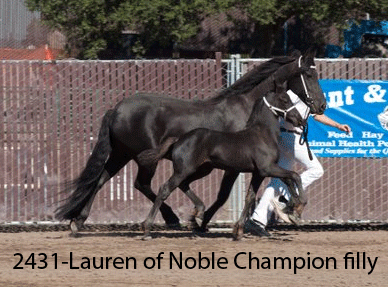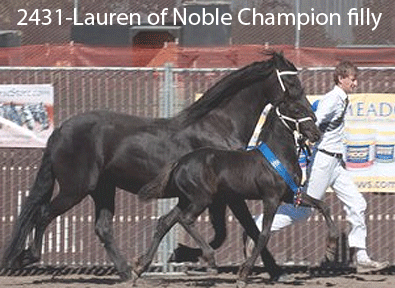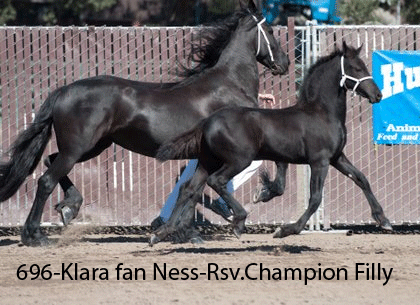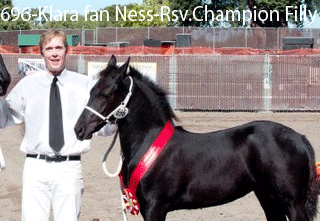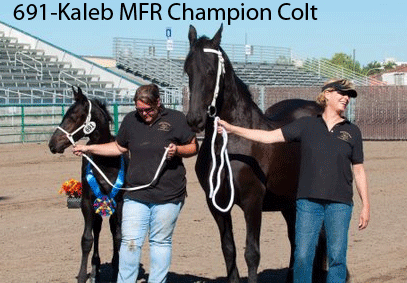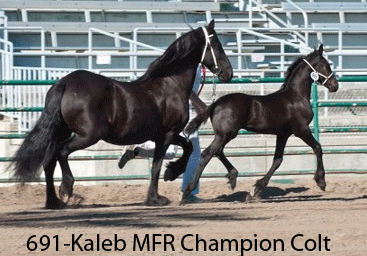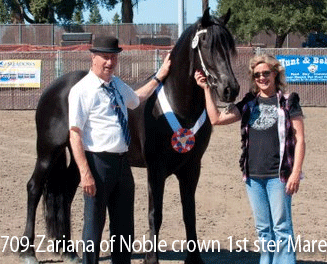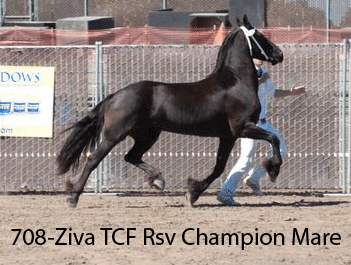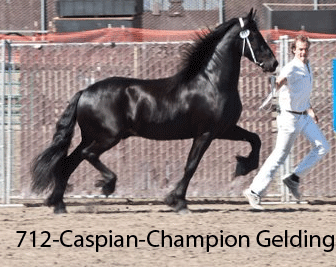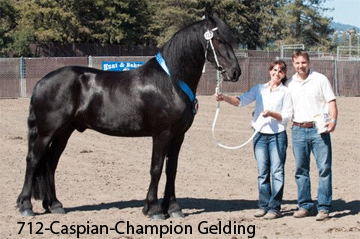 GO BACK TO HOME PAGE