THE RESULTS OF THE 2012 CCFC HOSTED KFPS FRIESIAN HORSE BREED INSPECTION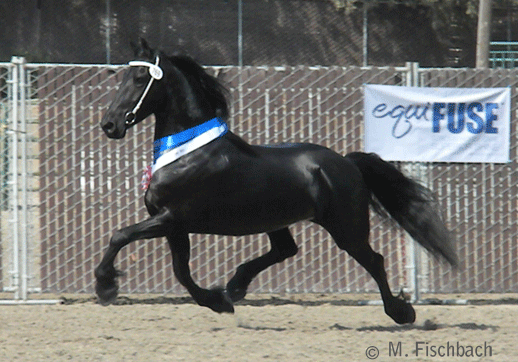 769 Vegaslas -1st Premie Ster/Provisional Crown mare, Champion of the Mares and Best of the Show.
Owned by Jeffrey Duffield, Photo by Melissa Fischbach




Awards & Sponsors:

Hunt & Behrens, inc. John Martin, Petaluma CA, 707-762-4594
EquiFUSE www.EquiFUSE.com
The Baroque Horse Store www.BaroqueHorseStore.com, www.Friesianstore.com
Cowboy Magic, 1200 N Van Buren Street, Anaheim, CA 92807, 800-755-6844
Maddi's Friesian Ranch- www.maddisfriesianranch.com
Black Silk Friesians- www.BlackSilkFriesians.com
Grand Meadows www.GrandMeadows.com
Robert Baker



Thank you to our Inspection Committee; Melissa Fischbach, David Stecher and Lesley-Ann Van Darren.

And a big thank you to all the CCFC members who volunteered their time to help with this event, it could not have been done without you: David and Sunni Stecher, Lesley-Ann and Tim Van Darren, Melissa Fischbach, Brigitte Bondoux, Walt Pioli, Muriel Price, Susan Hall, Cindy Cole-Sauvignon, Katie and Shea Elledge. If I forgot you please let me know.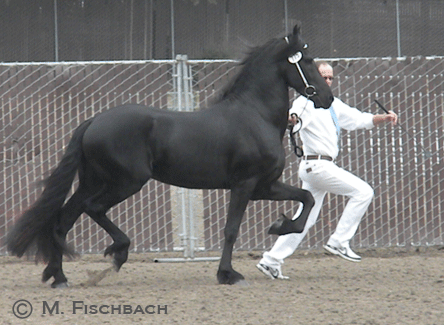 775 Fever T.C.B. Ster Stallion. Owner CCFC Member Bernie Sandoval. Photo: Melissa Fischbach

~PHOTOGRAPHS ~ Our show Photographer was Mark Dileo. Please contact him if you would like to order photos of your horse.
Marks webpage
---
>


Judges: Henk Van Der Meulen and Louis Hompe

Our runners were: Sjouke Plantings, Joe Unger and Alex Gibson, thank you guys for a job well done!

Name
Category
Premie/Rating
Sire
Dam's Sire
Owner
Catagoy 1 Colts for Foalbook
746 Magnum B.C.F.
Cat.1
3rd Premie
Sipke 450
Feitse 293
CCFC Member: Lesley Ann Van Deran
748 Minden MFR
Cat.1
2nd premie, RES. CHAMPION
Tietse 428
Fetse 349
CCFC Member: Ruth Page
749 Manihi MFR
Cat.1
2nd Premie, CHAMPION
Doaitsen 420
Tsjerk 328
CCFC Member: Ruth Page
750 Mikhail MFR
Cat.1
2nd premie
Uwe 4581
Sjaard 320
CCFC Member; Ruth Page
Catagoy 2 Fillies for Foalbook
752 Magdelena
Cat.2
2nd premie
Lolke 371
Bendert 281
Ryan & Ron Terpstra
753 Nicole MFR
Cat.2
2nd Premie
Doaitsen 420
Teade 392
CCFC Member: Ruth Page
754 Mariah MFR
Cat.2
1st premie RES. CHAMPION
Doaitsen 420
Teunis 332
CCFC Member: Ruth Page
755 Ophelis van Francis.
Cat.2
3rd Premie
Maiko 373
Ludse 305
Cathy Moore
756 Maja F.V.
Cat.2
2nd Premie
Wybren 464
Siblad 380
CCFC Member: Lisa Cruikshank
757 Majesteit Mary van Francis
Cat.2
3rd Premie
Maiko 373
Nanning 374
Cathy Moore
758 Mimi Van Arctische Ster
Cat.2
1st premie CHAMPION
Tsjerk 328
Tietse 428
Debbie-Jo Bennett
759 Madeleine MFR
Cat.2
2nd premie
Mintse 384
Beart 411
CCFC Member: Ruth Page
760 Maike B.C.F.
Cat.2
2nd Premie
Sipke 450
Tsjerk 328
CCFC Member: Lelsey Ann Van Deran
Cat.3 Yearling Mares For Premium
761 Klara fan Ness
Cat.3
2nd Premie
Sipke 450
Doaitsen 420
CCFC Member: Brian Ness
Cat.5 4+ Mares for Studbook/Ster
762 Myntje S.
Cat.5
Studbook, No Premie
Tsjalke 397
Gerlof 294
CCFC Member: Laura Peckham-Sweeney
763 Celma of Shady Nook Farm
Cat.5
Studbook, 3rd premie
Wander 352
Lute 304
CCFC Member: Shea Elledge
764 Athena S.
Cat.5
Not in Studbook
Anton 343
Leffert 306
CCFC Member: Melanie Overby
Cat.6 3+ Mares for Studbook/Ster
765 Danika B.C.F.
Cat.6
Studbook, STER 2nd Premie
Mintse 384
Tsjerk 328
CCFC Member: Sara Leslie
776 Famke fan Morningstar
Cat.6
Studbook, No Premie
Sibald 380
Wander 352
Maria Perolia
Catagory 7, Repeat Studbook Mares for Ster
766 Traveler
Cat.7
Studbook, No Premie
Doaitsen 420
Reyert 337
CCFC Member: Brian Ness
768 Zhaana
Cat. 7
Studbook, No Premie
Nanning 374
Bouwe 242
Tabitha Hartley
Cat. 8 4-6 yr Star Mares for Premimun
769 Vegaslas
Cat.8
1st Premie, CHAMPION MARE, PROV. CROWN & BEST OF SHOW
Beart 411
Teunis 332
Jeffery Duffield
770 Ziva T.C.F.
Cat.8
2nd Premie
Anton 341
Sjaard 320
CCFC Members: Richard and Elizebeth Sharp
Cat. 10 Crown Mare for Premimum
771 Nitha fan'e tuorrebout
Cat.10
1st Premie
Beart 411
Teunis 332
JCCFC Member: Ruth Page
772 Pocahantas M.T.B.F.
Cat.10
1st Premie, RES. CHAMPION
Teade 3921
Tjitte 333
CCFC Member: Ruth Page
Catagory 12 3+ Yr Geldings for gelding Book & Ster
774 Wouter S.F.
Cat.13
Studbook, No Premie
Wander 352
Wicher 3342
CCFC Member: Brian Ness
Catagory 17 3+ Yr Stallion for Sutdbook and Star
775 Fever T.C.B.
Cat.17
STAR
Feike 395
Nykle 906
CCFC Member: Bernie Sandoval
GO BACK TO CCFC HOME PAGE