IN THE NEWS 2004!




SPECIAL THANK YOU to the 2004 Kuering volunteers, all of whom worked very hard to help pull this together; David & Sunni Stecher, Lesley and Tim Van Deren, Debbie Margiotta, Winnie Lea, Brigitte Bondoux, Susan and Charles Hall, Helima Cole, Melissa Fischbach, Nicole Reed, Cindy Cole, Peter Falla & Raven Houdek, Eileen Perkins & our video and photography crews: Deborah Fischbach & Ruth Lake. Please let me know if I have forgotten you! and thank you again, is was a pleasure to have all the help! ~ Melissa Fischbach CCFC president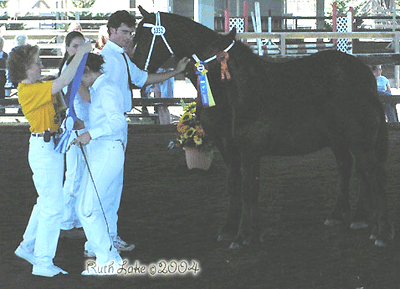 Photo copyright: Ruth Lake
Champion, 1st premie Colt owned by CCFC Member Nicole Reed (being ribboned), with CCFC Member presenting the award: Sunni Stecher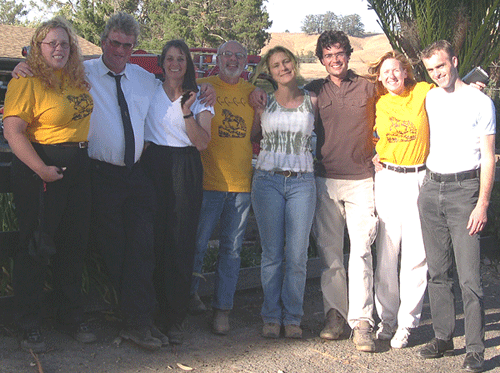 Photo copyright: Deborah Fischbach
Part of the 2004 Kuering group from left to right: Melissa Fischbach CCFC President, Fetse Feldstra FPS Judge, Kris Fulwiler US/FPS judge, David Stecher CCFC treasurer, Helima Coe CCFC Member, Sjoerd Meekma FPS Runner, Cindy Cole CCFC Secretary, Huibert Maurice FPS Runner
The 2004 Kuering was a success, the judges gave praise to CCFC and said it was the best run kuering they had attended on this circuit. The runners loved to footing, as the fibar was easier to run in then sand. We had a 1st premie champion colt, and out of 9 mares we had 4 make Ster! one a 1st premie. Sadly one of the 2nd premie sters lost her status due to height. We had 3 stallion try for Central proving and 2 of the three were awarded Ster with one being accepted to attend central proving, Again sadly he was also lacking in height. to the CCFC success the first premie mare who also won champion and best in Show was a CCFC member as was the Stallion and the first premie champion colt. Congratulations to our members!!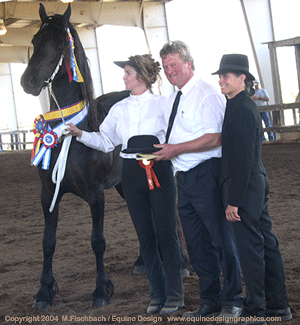 Photo copyright: Melissa Fischbach

CCFC Member Kimberly Wright, Pictured with the judges with her 1st premie Champion and 'Best in show' Mare 'Bjefke fan de Kromme Jelte' ( Anton X foppe)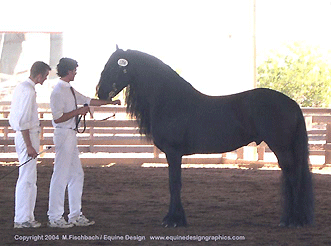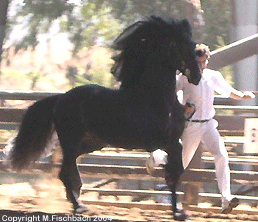 Photos copyright: Melissa Fischbach


Janna and Ron Goldmens Stallion "Up-t fan Panhuys" awarded ster and for a short time Central Proving approved ( Anton X Nykle) CLICK HERE TO READ Ron Goldmens story about the kuering and his 15 minutes of having a chosen stallion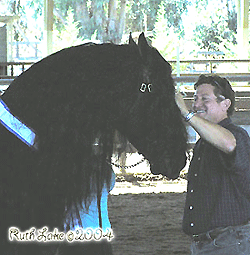 Photo copyright: Ruth Lake

2004 CCFC Kuering Results
Name
Category
Premie/Rating
Sire
Dam's Sire
Owner
Fillies for Foalbook
Magdalen
Fillie
2nd
Otte 375
Ulke 338
Joann Towle (CCFC Member)
Mataline Grand Cru
Fillies
2nd
Tsjerk 328
Jelke 367
Bonnie Gringer
Obla D.
Fillies
3rd
Sibald 380
Bendert 281
David & Sunni Stecher (CCFC Member)
Olena
Fillies
2nd Res.Champ.
Otte 375
Pyt 325
Lesley-Ann & Tim Van Deren (CCFC Members)
Obrienne
Fillies
2nd Champion
Sibald 380
Jochem
Don Jasper
Colts for Foalbook
Marquis
Colts
3rd
Andries 415
Reyert 337
Gary Pharoah
Nico
Colts
2nd
Feitse 293
Oeds
Denise & Craig England
Orion Fan Helsing
Colts
3rd
Ids 300
Laes 278
Walt Pioli Jr
Mozart
Colts
2nd- Res. Champ.
Teade 392
Sibald 380
Barbara Suechting
Neptune
Colts
1st-Champion
Tsjerk 328
Laes 278
Nicole & Patrick Reed (CCFC Members)
Odin
Colts
3rd
Rintse 386
Rypke 321
Patricia Kelly
3+ Year Mares for Studbook and Star
Beth D.
studbook/ster
Vb-too short
Lukas 324
Jildert 299
Glenda Lovmaerk & Gina Reed
Bjefke fan de kromme jelte
Studbook/Ster
1st Ster-Champion & Show Champion
Anton
Foppe 290
Richard & Kimberly Wright (CCFC Members)
Delfina
Studbook/ster
2nd Ster
Wicher 334
Bendert 281
Nicole & Patrick Reed (CCFC Members)
Djashin
Studbook/ster
stb
Pyt 325
Jurjen 303
Terri Huberty & Eileen Perkins (CCFC Members)
Djoeke T
Studbook/Ster
2nd Star, reduced to 3rd stb, too short
Anton
Jochem
Karen Enriquez
Fantasia
Studbook/ster
3rd stb
Bendert 281
Sander 269
Richard & Kimberly Wright (CCFC Members)
Friesha
Studbook/ster
3rd stb
Pyt 325
Sir Lancelot
Jackie Lundy
Tietsia v.d. Himmen
Studbook/ster
3rd stb
Heinse 354
Dirk 298
Glenda Lovmark & Gina Reed
Feikje d.v.
Studbook/ster
2nd Ster-Res.Champ
Jasper 366
Nammen
Don Jasper
Mares Repeat for Star
Beatrix
Repeat
3rd stb
Bendert 281
Tamme 276
Renee Marzocchi-wolfe (CCFC member)
Brandy W.
Repeat
3rd stb
Ulke 338
Tsjerk 328
JoAnn Towle (CCFC Member)
Klaske V.
Repeat
3rd stb
Pyt 325
Laes 278
Lesley-Ann & Tim Van Deren (CCFC Members)
Twirre fan Snakkerstate
Repeat
3rd stb
Reitse
Djurre
Shelly Kessler
Annje
Repeat
3rd stb
Laes 278
Ids 300
Lauri Plummer
7 + Mares for Porv. Model
Marina B. Ster
Model
No Change
Bendert 281
Bartled 292
Nicole & Patrick Reed (CCFC Members)
Stallions for Central Proving
Edwoud M.
Stallion
No
Otte 375
Nean 264
Melissa Boele
Fieke fan d'ald loop
Stallion
Ster
Heinse 354
Remmelt 323
Charyl Silva
Up-t fan Panhuys
Stallion
accepted- but measured too short, Ster
Anton
Nykle 309
Ron & Janna Goldmen (CCFC Members)
GO BACK TO GOME PAGE